Tried and true tips to eat healthy
Whether you're eating in or out, no one food plan works for everyone. Instead, focus on getting the basics right because the core principles of healthy eating never change. Find what food works best for you and your life – quick and easy recipes, go-to ingredients, eating on the run, indulgence meals – and make more good choices.
You probably know that experts believe a healthy diet includes a rainbow of colors. But, when it comes to food and nutrition, does color matter? Take this quiz to find out. Answer yes or no and scroll down to [...]
Convenience foods get a bad rap. There are plenty of healthy options if you want to make a time-saving choice. Home cooking doesn't mean your meals have to be completely homemade. I find there are plenty of packaged foods [...]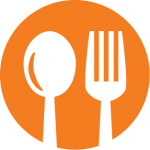 Simple steps to stay active
Small changes deliver big impact. So, do what you can when you can. If your exercise plan becomes too complicated, it may not happen or stick long-term. Real fitness is a journey, not a destination. Take small actions in your workouts. Mix it up to make it fun and do more anytime, anywhere activities to maintain your personal fitness.
If you've only got 10 minutes to workout, focus [...]
High Intensity Interval Training (HIIT) is often considered the [...]
It is outdoor time…finally! There are so many more [...]
Small lifestyle changes that add up
You don't have to be ready to change everything at once. If you set realistic goals and take incremental steps, success can be yours. Live more fully by adopting new ways to fit healthier choices and common-sense solutions into your everyday life. Real fitness is personal.
Everyone around me seems to be in vacation planning mode. With summer right around the corner, I thought I'd share some of my own favorite vacation ideas. It should be no surprise that I love doing active trips. Even [...]
Camden is now seven months old. I can't believe how fast the time has gone, but I also can't believe it's only been seven months. I love being a mom! It's like being in a new relationship when you [...]