Eating out this weekend? Order smart and enjoy every bite. When I'm going out to dinner I like to plan ahead by skimming the menu online. It helps me stay on track as well as make the most of it when I want to indulge. Here are some of the best dishes to try by restaurant type when eating healthy.
American
Two is better than one. If you're eating out and want to be extra health-conscious, don't be afraid to ask for two veggie sides in place of a starch. Veggies are always better in restaurants because they make it a point to treat them with extra care so they can stand on their own.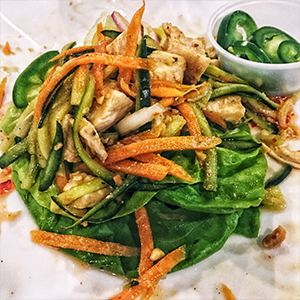 Brunch Places
My go-to egg dish out is a one-yolk omelet with healthy sides. When you eat whole, natural foods, they are always better for you than processed food (some healthy fat is good). And, if you want to indulge, go for a lean protein side over bacon.
Chinese
Just because something sounds healthy on the menu doesn't mean it is. Chinese restaurant dishes can often be deceiving with all the lean proteins and fresh veggies at the centerpiece. My strategy is to steer clear of the fried options and heavy sauces. Last time I went with edamame for an appetizer and then shared the chicken lettuce wraps to keep my fat intake down.
Greek
Greek restaurants often have an overwhelming amount of food to choose from, but usually there are a lot of healthy options. Plus, all the small plates choices mean you can try a variety of dishes. Often my go-to dish is a Chicken Souvlaki Salad. Greek food is also great for sharing. Many of their dishes are made for eating "family-style" so you can try a little of everything. Or, order once and eat it twice (or more) by bringing leftovers home.
Italian
Italian food is delicious, but if you order the wrong thing it can wreck your diet in a second. Be careful of anything labeled "cream sauce" or "breaded," and ask the waiter to have your food cooked without oil or butter. Stick with grilled, broiled or boiled proteins and puttanesca or marinara sauces. One of my favorite dishes is chicken cacciatore.

BeckyFIT Hack
I refuse to give up buying fresh fruits and veggies. Here's my hack to keep them from going bad. If I don't think I can finish them in time, I'll put them in a plastic bag and freeze for later use. You can always defrost produce and use it in recipes, on top of yogurt, in smoothies or just roast it in the oven.
Mexican
Unless you are cooking Mexican food at home it can be hard to find good choices. Most Mexican restaurants cook with a lot of cheese, special sauces and high-carb tortillas. Still, if you order carefully you can stay on track. Last time I went with grilled chicken tacos loaded up with lots of lettuce and tomato.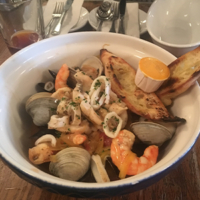 Seafood
Why go for one, when you can have it all (in the same pot)? Seafood is a great choice when eating out. Most menus are full of fresh options and delectable flavors. In fact, the omega 3 fatty acids in fish actually help you lose fat except, of course, if the fish you pick is breaded, fried or served in a creamy sauce! I usually go for shellfish such as shrimp, lobster, crab or scallops that is steamed, broiled or boiled.
Steakhouse
I love traditional steakhouse food but also want to stay on the healthy side. I usually choose filet mignon (one of the leanest cuts of meat), steamed veggies for my side plus something small and savory that kicks up the flavor without overdoing the fat of my meal. It could be sautéed mushrooms, blue cheese crumbles, a few onion rings or even a special steak sauce. A favorite starter is shrimp cocktail.
Lastly, when you choose to indulge, let yourself enjoy it without an ounce of guilt. Forget the rules. One meal with French fries will not affect your waistline.