My boyfriend introduced me to this quick, no-cook sauce. It is a great put-it-on-everything sauce. Try spooning it over baked fish or chicken for a citrusy finish. It's an easy way to use up all that fresh parsley!
A bunch of fresh parsley, chopped
½ lime
¼ grapefruit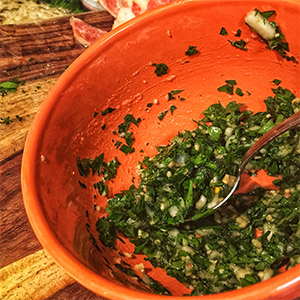 Add chopped parsley to a bowl and squeeze in the juice of two lime wedges.
Add about a teaspoon of fresh squeezed grapefruit juice and grated rinds and mix well.
To bump up the freshness factor, chop up some of the grapefruit flesh into juicy bits and add it to the sauce.