Convenience foods get a bad rap. There are plenty of healthy options if you want to make a time-saving choice. Home cooking doesn't mean your meals have to be completely homemade. I find there are plenty of packaged foods that save time on meal prep and are still nutritious. Here are some of my favorite items.
Is frozen produce as good for you as fresh? Actually, the frozen version may be better. Fruits and veggies are typically frozen at their freshest state when they are rich in vitamins and minerals. When you defrost them and eat them it's like you're eating them right after they've been picked! Fresh produce is great as well; just remember the longer it sits, the less nutrients it retains.
Garlic
Little frozen garlic cubes are a lifesaver for me! I am a big fan of adding flavor to my dishes with garlic. Plus, among its many health benefits, did you know garlic contains sulfur which helps your body better absorb zinc from foods?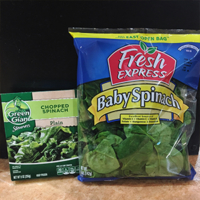 Spinach
One time when I was watching Rachael Ray, I heard her say how much more bang for your buck you get with frozen spinach versus fresh. I decided to check it out and she was right. A box of frozen spinach is 9 ounces while a bag of fresh spinach is only 5 ounces. But the biggest difference is in the price. The 5 ounces fresh bag was $3 and the 9 ounces frozen box was only $.89! If you buy fresh you are spending $5 MORE to get the same amount you get frozen. Something to think about.
Waffles
Have you checked out the frozen waffle section at the grocery store lately? There are so many natural, whole grain options. Waffles are no longer an indulgence food anymore. My favorites are Van's 8 Multi Grain and Nature's Path Ancient Grains. Both have loads of fiber and protein and a nutty grain flavor that goes great with a little maple syrup.

BeckyFIT Hack
I refuse to give up buying fresh fruits and veggies. Here's my hack to keep them from going bad. If I don't think I can finish them in time, I'll put them in a plastic bag and freeze for later use. You can always defrost produce and use it in recipes, on top of yogurt, in smoothies or just roast it in the oven.
#2 Pre-Cut or Ready to Cook Ingredients
The refrigerated sections of grocery stores keeping multiplying. Everywhere you look there are new options to cut down your prep time. The downside is the higher ingredient costs. Since time is money, I focus on the foods where preparation is complicated and without a short-cut I am not likely to make the effort. It's particularly worth it when eating fresh also makes a big difference in taste.
Butternut Squash
One of my favorite soups is butternut squash. It is an easy soup to make if you buy the butternut squash already cut up so you don't have to deal with the hard rind, dense flesh, awkward shape or messy insides. When roasted the butternut squash takes on a sweet and rich flavor and makes an amazing (and filling) seasonal soup.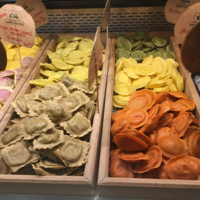 Fresh Pasta
Italian-style markets are popping up around Baltimore, which makes it so much easier to buy fresh foods like this homemade ravioli. When it comes to pasta, the difference between the fresh stuff versus dry or frozen is incomparable! Check around to see what is available in your local market.
Zucchini Noodles
As much as I'd like to eat pasta every day, I don't. Zucchini noodles may not taste exactly like regular pasta, but they are delicious in their own way. I personally love zucchini so being able to slurp it up like spaghetti makes it more fun to eat! Buying vegetables that have already been spiraled into noodles makes meal prep as easy as opening a box of dry pasta. It's also faster since the vegetables cook even faster.
The prepared food sections at the grocery store seem to be getting bigger and bigger. How do you grab a quick meal and keep your health in mind?
Rotisserie Chicken
Chicken sometimes gets a bum rap. The perfect roasted chicken is neither bland nor boring. It is mouthwatering! If you don't have the time to cook one yourself, ready-made rotisserie chickens seem to be available everywhere these days.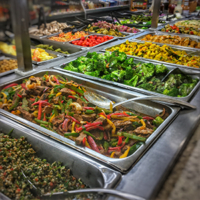 Hot Food Bars
Choose protein options that don't come with a sauce. Sauces are almost always high fat, high sodium and full of extra grease. For side dishes, I love bean salads (fibrous and nutritious), roasted potatoes, wild rice and roasted squash. The simpler it is, the better!
Salad Bars
Salad bars are great. You can eat at one almost every day and never get bored! I like to fill my bowl with different colored veggies (varying the colors boosts nutrient content) and then add from there. I go with a good protein option like chicken, shrimp, salmon or tofu, then add a couple fun things on top. Try feta cheese, slivered almonds, pumpkin seeds, chickpeas, sesame sticks…the list goes on. Just be careful with the dressing. Stick to vinaigrettes or vinegar-based options if possible.